Although I don't normally watch product releases or keynotes from any manufacturer (including Samsung and Apple), I did watch a shortened version of Apple's WWDC 2019 keynote highlighting the key points.
And wow, a lot of change is coming… plus a new, exciting Mac Pro…
Thanks to The Verge for producing a short yet sweet version summarizing the key points of WWDC 2019, dubbed "Dub Dub" by attendees. You can watch that video below – although I summarize what is discussed here. Meanwhile, I'm going to react to some of highlights announced at WWDC 2019 – a mix of criticism and praise. There's a lot to talk about, so let's start…
Apple TV and tvOS
First in line is the Apple TV and its corresponding operating system, tvOS. The Apple TV was Apple's response to competition from other devices, such as Roku and Amazon's Fire TV.
In recent times, the Apple TV has taken on another role in addition to a fancy $150 box that can play movies and TV shows. Apple has added gaming capabilities to the Apple TV, allowing users to use it as a gaming console.
At WWDC 2019, Apple CEO Tim Cook revealed that changes to the tvOS interface were coming. Cook cited a redesigned home screen, personalized recommendations for different users and making it easier to switch between users were changes to tvOS itself.
But there's more. Across the board, Apple is starting to eliminate iTunes. (RIP iTunes, 2001-2019.) Instead, Apple is splitting it into three separate apps: Music, Podcasts and TV.
Speaking of it, Apple Music got upgrades. Cook excitedly mentioned the fact that users of Apple Music can view in-sync lyrics to the song they're listening to.
Lastly, Apple Arcade. As previously mentioned, the Apple TV can be used as a gaming console, able to play games found on Apple Arcade. Cook announced support for XBox Wireless Controller and Playstation DualShock 4 controllers.
Apple TV has been around for a while, since 2007 to be exact. For those who use iTunes extensively (now Apple Music/Podcasts/TV) it has been successful, but I've seen more Roku and Fire TVs than Apple TV units. Maybe it's the price – the entry-level Roku costs only $30, and the entry-level Fire TV only costs $50. The Apple TV HD, which is the entry level model, costs $150; the 4K version costs $180 for the 32GB model and $200 for the 64GB model.
But the Apple TV offers some compelling features since it is a part of the Apple ecosystem. The remote features Siri and Apple has made it possible for users to use their iPhone as a Apple TV remote. The Apple TV obviously functions with AirPlay, making it easier to control it from an iOS device or a Mac.
Apple Watch
The Apple TV wasn't the only non-flagship product to receive upgrades. The Apple Watch did as well.
Changes to the Apple Watch included new faces and a function that makes a sound on the hour. But perhaps the biggest change was allowing for standalone apps to run on the Apple Watch. You no longer have to link to an iPhone to make use of the apps.
The Apple Watch also had some health functions added to it, including a hearing warning that alerts you if the environment is louder than a certain level.
Like Apple TV, I don't really have a huge opinion on the upgrades as I don't use Apple Watch – or any type of smartwatch.
iPhone and iOS
Being a recent adopter of iPhone and iOS in general, I was curious to see what iOS 13 may have in store. It appears to be a big update with some modifications to the user interface and many behind-the-scenes changes that helps improve performance.
Behind-the-scenes, app downloads and OS upgrades are being packaged to be smaller, saving time and data. This is a great idea since many have an allotted amount of data in their plan. Besides, it also saves time when installing an app as you don't have to wait as long for it to download.
As mentioned back with Apple TV, iTunes is being phased out and split into three new apps: Apple Music, Podcasts and TV. Apple Music is due to receive upgrades including is playing lyrics in sync with the music.
Perhaps the biggest update was the introduction of dark mode to iOS. Dark mode has been extremely successful in macOS, so porting it to iOS was the right thing to do. I actually support dark mode in iOS, as sometimes the bright, white background can hurt your eyes in a dark environment. Dark mode applies to the UI for the operating system and Apple apps, but third-party apps need to be changed independently.
The next introduction made me chuckle. My very first phone from 2013 – an LG Optimus Elite running Android – had a swipe keyboard. Every Android phone I've had since has had the swipe keyboard. During my recent switch to iPhone and the iOS world, one of the biggest pet peeves was the absence of the swipe keyboard. Well, it seems like Apple was reading my mind – as they're introducing a swipe keyboard of their own for iOS. This is great news, but Android (Google) beat them to the punch by nearly a decade.
In other things Apple is behind on: street view. They introduced street view to Apple Maps, catching up to something Google Maps has had for years now.
There were some updates to the Photos app, as well as Safari and Mail. Also Apple revealed a new login system to compete with Facebook and Google, as well as some changes to AirPods and CarPlay.
Marques Brownlee had a really good video highlighting the new features of iOS 13 and got to test it in beta.
iPad and iPad OS
That's not a typo. The biggest change for the iPad is the new version of iOS specifically made for the iPad: iPad OS.
iPad OS offers improved windowing, an improved file system and thumb-drive compatibility. You can now open two windows of the same app side-by-side. You can now read thumb-drives from your iPad. You can also import files directly into an app. Other features included a downloads manager for Safari and improved scrolling.
Perhaps the strange introduction with iPad OS is the strange gestures they're introducing. Dieter Bohn with The Verge discussed these new gestures in the below video, as well as the iPad's viability to replace your desktop PC or Mac. (Something I plan on discussing in my own iPad review in a couple weeks, as I give the three-month update on owning my iPad. Hint hint, nudge nudge.)
Marques Brownlee also made a great video detailing the new features in iPad OS, and also tried the beta version.
Supposedly, the iPad OS also introduces support for using a mouse as a pointing device. As with iOS 13, iPad OS will also have a dark mode.
The iPad OS has some great features, such as the improved windowing (now I can have two Safari windows open side-by-side) and ability to read/write to USB-C thumb-drives.
But I'm not a fan of the new gestures. I agree with Dieter Bohn with the gestures being not being very intuitive. It will take some getting used to, but it's not something like using a mouse that you can easily learn and go with.
I was both surprised and perplexed at Apple adding mouse support for the iPad. Perhaps this is Apple's way of competing with the touchscreen 2-in-1 laptops in the PC world? If that's the case, why on the iPad instead of releasing a 2-in-1 MacBook? Don't get me wrong, I like iOS – but for getting work done on more intensive things (graphics, videos, etc.) I prefer a desktop OS like macOS.
On the flip side, I see people ditching their MacBooks and PC laptops for an iPad or similar tablet – and using it as their primary computer. Tablets are not only lighter and more mobile, but they've caught up in terms of processing power and speed, as well as memory and storage. This isn't just a trend for computer novices, but professionals as well. Personally, I don't think I could do that. (Once again, that'll be thoroughly discussed in my upcoming update on my iPad experience.)
macOS Catalina
At the end was the mention of the new Mac Pro (trust me, I'm saving the best for last) and the next version of macOS – Catalina.
Once again, iTunes is being split into three separate apps: Apple Music, Podcasts and TV. So yes, they can take up even more room on your dock. (More icons to remove.)
Perhaps the biggest news with this release is the introduction of Sidecar. Now your Mac can use your iPad as an extended display. I'm somewhat curious as to how this will work and if there will be any latency. Unfortunately, this new feature is currently only limited to the newest Mac hardware, according to MacRumors.
The new release also adds voice control to the Mac to further increase accessibility. The new voice control extends beyond the Mac to iOS devices. A nice touch.
Then there's "Find My." Not "Find My Mac." Not "Find My Computer." Just "Find My." This feature kind of puzzled me, as I thought Macs already utilized the "Find My iPhone" function. Oh well, nonetheless a cool feature.
Project Catalyst is a new feature in macOS Catalina aimed towards developers. The new feature speeds up the process of porting software from iOS to macOS. This is closing the gap between the two platforms – something Apple has promised by mentioning that iOS apps will be able to run on a Mac.
MacRumors made a great video describing the new updates in Catalina.
To many, though, everything up until this point means nothing. Professionals have been waiting for years for this announcement… and it finally came…
The Mac Pro and Pro Display XDR
Ever since Apple discontinued the old "cheese-grater" Mac Pro in 2013 in favor of the "trashcan" Mac Pro, pro users have been waiting for a redesign. Something with improved expansion options and improved cooling.
Apple released the iMac Pro in late 2017. Many pro users actually switched to the iMac Pro due to it's powerful specs (processors up to Xeon W, memory up to 256GB, impressive graphics and a 5K internal display) to skip the trashcan Mac Pro.
Mac Pro Specs – Impressive!
But this new Mac Pro puts the iMac Pro to shame… the Mac Pro has perhaps the most impressive specs I've ever seen.
Just like the iMac Pro, the new Mac Pro uses Xeon W processors running around the same clock speed. But you can order the Mac Pro with a Xeon with up to 28 cores; the iMac Pro *only* tops out at a 18-core Xeon W. By comparison, the ThinkPad W541 I'm writing this on only has an 8-core Core i7.
Probably what almost caused me to faint when I watched the keynote and videos on this new Mac Pro was just the ceiling for system memory. The Mac Pro can have up to 768 GB of RAM, while the 24 and 28-core Mac Pros can have up to 1.5 TERABYTES of RAM. We're talking system memory, RAM, random access memory here. Not storage or hard drive/solid state drive capacity. I was shocked at the iMac Pro's 256GB ceiling, but the Mac Pro once again puts that machine to shame.
Then there's the graphics. The Mac Pro – just like it's successors and other professional-line Macs (iMac Pro and MacBook Pro) – is used extensively in places where graphics processing power isn't just a luxury, but a necessity. The Mac Pro has you covered – allowing up to 4 (yes, 4) GPUs being installed simultaneously, using top-of-the-line AMD Radeon Pro and/or Radeon Pro Vega II GPUs. That's some serious horsepower for rendering graphics. To further help with rendering things like ProRes, Apple released the Afterburner accelerator card.
But what about expansion? Apple released a new type of expansion slot – the MPX (Mac Pro eXpansion) – for cards. There are still traditional PCI Express slots provided, but things like the aforementioned new GPU daughter-cards use the new MPX slots.
If you didn't get the message that this thing was a beast, this may change your mind: the power supply is rated at 1.4 kilowatts. The power supply for the Mac Pro can deliver 1,400 watts of power. Of course, when one of these machines is completely decked out – you're going to need almost every watt possible.
Impressive Design, too!
While the specs of the new Mac Pro are impressive and almost too mind-blowing, the design of this computer is also pretty cool.
The previous generation/trashcan Mac Pro was notorious for overheating and having cooling problem. This time around, Apple decided to make a machine that actually… you know, works without overheating.
You may notice the huge circular patterns on the front of the case. (Those with trypophobia – beware!) Those holes, combined with three beefy fans, a blower and passive heatsinks on major components, help keep your new Mac Pro cool.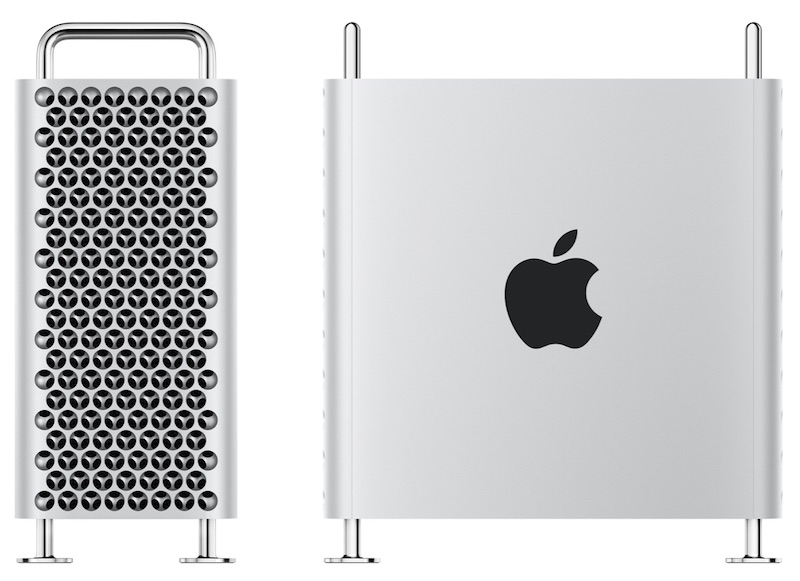 While I have a minor degree of trypophobia (I'm not terrified – but also feel uncomfortable at the sight of unsightly small holes, I actually like the look of the case. It reminds me of something you'd find from the 1960s, but more modern.
The design is for just more than cooling. It allows for easy access to the computer's internals (nearly unheard of for Apple – no tools required for removing the outer cover of the computer) and portability. Note the front and rear handles resembling the handles found on older professional-range Macs, such as the PowerMac G3 and G4 models from the early 2000s. Apple also is selling optional wheels for the new Mac Pro.
Part of me hopes Apple mimics the design when redesigning the iMac and iMac Pro, which are definitely due for a redesign.
The Pro Display XDR
To complement your new high-end workstation, you need a good monitor. Apple hasn't sold monitors since they quit making the Thunderbolt display… until now. Introducing the Pro Display XDR… "it's a beast by itself."
For me, the layman computer user (compared to the target audience of the Mac Pro and Pro Display XDR,) I was somewhat shocked at this monitor. I'm one of those who are not overly concerned about how many nits our monitors can display, or whether it can display 6K or 4K. But to those working in fields where quality matters (video editors, etc.) – a monitor can be the difference between great quality and "OK" quality.
That's why Apple released the Pro Display XDR. They compared it to many of the reference monitors used in the film industry… which cost upwards of $40k.
This 32-inch monitor comes with a Retina 6K display with XDR (eXtreme Dynamic Range.) Apple boasts 1,000 sustained nits of brightness, 1,600 nits peak; a 1,000,000:1 contrast ratio and the P3 wide color gamut. They also boast a super-wide viewing angle. These are very good specs.
The pitfall, at least in my opinion, is the rather slow refresh rate. The fastest refresh rate offered is 60Hz, which isn't all that good compared to other, far cheaper models offered. Not being someone who knows a lot about display technologies or the far depths of editing huge productions, I'm not really sure how much this slower refresh rate would affect the display.
The holes found on the Mac Pro are mimicked on the Pro Display XDR, as the panel on the monitor gets warm enough to require its own cooling. The Pro Display XDR doesn't come with a stand or VESA mount (they're sold separately), which brings me to…
What's the cost?
One of the biggest factors about Apple products is the cost. Traditionally, Apple products have been much more expensive than their competitors. However, in recent years the "Apple Tax" has decreased somewhat.
According to Macworld, the new Mac Pro will be starting at $5,999. That will buy you the 8-core Intel Xeon W clocked at 3.5GHz (with turbo-boost up to 4GHz,) 32GB RAM, 256GB SSD and a Radeon Pro 580X graphics card. Many were a little shocked by the price of this entry-level model and it featuring a measly 256GB SSD. I would've expected a 1TB SSD at the very least.
As for the upper-end models, we have no idea. Apple has not released pricing information on the other models. But many speculate that the highest-end, fully-featured model will sell for over $40,000.
The speculated $40,000 is to be expected for a computer with a 28-core Xeon having 1.5 terabytes of memory, 4TB SSD internal storage, four GPUs and that Afterburner accelerator card.
That fully-featured Mac Pro will likely make the 2019 Mac Pro the most expensive computer Apple has ever produced. If the speculations are true, it will beat the Apple Lisa by nearly $15k (accounting for inflation in the Lisa's price.)
The Pro Display XDR is where people started getting upset over the price-tag. The Pro Display XDR will set you back $4,999 for the standard glass model and $5,999 for the nano-texture glass that has a matte finish. Apple put this in comparison to the $40,000 reference monitors in use in the film industry.
Where it gets crazy is the accessories. Remember how I said the stand and VESA mount adapter were both sold separately? That they are. The stand will set you back $999. Yes, $1k for a monitor stand. This is Apple. Where they will dollar and dime you until you go home broke. The new stand costs more than the entry-level MacMini.
In the end, you're paying for something that blows almost everything else on the market away. But this new Mac Pro and it's companion monitor, the Pro Display XDR, are not for "the rest of us." It's for those who need that power and precision. If you can get by with something cheaper, than you probably don't need the new Mac Pro.
WWDC 2019 was packed with updates and upgrades for almost every Apple product… from Apple TV to the new Mac Pro and it's $5,000 companion monitor.